There have been many ways we've had to adapt to a new way of living through coronavirus, from social distancing to not seeing friends and family from months on end to endless Zoom calls. While all of this has been an adjustment, to say the least, one of the biggest adjustments has been wearing a face covering. One year into the pandemic, seeing people wearing face masks is slowly becoming the "new normal" but with the "new normal" has come to a new problem- Maskne. Maskne is the new acne. Here we tell you how to treat maskne – another undesired pandemic problem.
(Image credit: Anastasiia Chepinska via Unsplash)
SO WHAT EXACTLY IS MASKNE?
Type "maskne" into Google, and you'll find over 1 million hits. So, what exactly is maskne? It was initially coined to describe acne development from wearing facial masks (mask + acne). It is now used as an umbrella term to cover all manner of facial acne. Masks can cause facial rashes and/or acne for several reasons. The friction caused by tight areas of the mask repeatedly rubbing against the skin, such as over the nose, cheeks and ears can result in redness, flaking and peeling skin, and even sores. Wearing masks all day can be worse if you have an underlying skin condition like eczema.
Masks create a humid environment underneath them. They can trap moisture and sebum, both of which can aggravate acne you already have or cause new breakouts by clogging pores. The combination of masks and a warm environment can worsen any pre-existing skin conditions such as rosacea. On top of all this, your mask also harbours germs and bacteria, which can lead to infection. Dr Adil Sheraz, consultant dermatologist and a spokesperson for the British skin foundation also highlights another way maskne develops, "The act of constantly adjusting and touching the mask and thus touching your face will transfer oil, dirt and irritants to the skin. "
WHAT CAN YOU DO TO PREVENT MASKNE? AND HOW TO TREAT IT?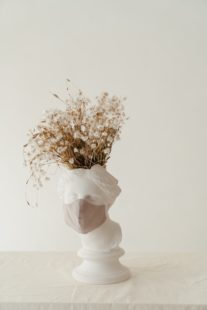 STEP ONE:  Mask Fit.
Your mask's fit shouldn't be too tight or too loose; you need a firm but comfortable fit. It would be best to choose a mask made from natural fabric like cotton, silk, or wool.  Synthetic fibres are harsher on the skin and promote perspiration around your mouth. When using a reusable cloth mask, Dr Sheraz advises that you wash it after each use. Not only protecting against Covid19 but also to remove dirt, oil, and bacteria that can result in an outbreak.
(Image credit: Cottonbro/Pexels)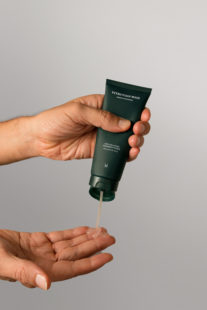 STEP TWO:  Pick the right cleanser.
Keeping your pores clean and tight is essential to avoiding breakouts. Our Anti-Pollution Toner and Cleanser is a 2 in 1 low foaming cleanser that deeply cleanses the skin, removing all dirt and oil.  Our formula also contains nutgrass root and ginger root, which are natural anti-microbial that inhibit bacteria and fungus growth on the skin, making them effective in treating and preventing maskne.
STEP THREE:  Keep skin hydrated.
Hydration is always an essential component in skincare, but it can be especially helpful in dealing with maskne. Moisturiser can act as an invisible barrier between your face and mask, reducing the friction that can cause skin irritations. You want to look for a moisturiser with hyaluronic acid like our All Day Hydrator. Hyaluronic acid will ensure that your skin stays hydrated for long periods, which is great when you need to wear your mask all day.
Maskne can cause stress and lower your self-esteem, but if you follow all of the steps above, you should see an improvement in the skin. Try our product sets to elevate your skincare regime and give yourself a little peace of mind. And if your maskne persists, don't hesitate to contact our doctor, dermatologist to help you navigate this very modern skincare problem. After all, maskne is a small price to pay for keeping yourself and your loved ones safe.