At Vitruvian, we are often talking about hydration. How it relates to the human body and a crucial component of your wellness. This month, we're looking at it from a slightly different perspective. For centuries, artists have been able to give new meaning to 'hydrate'. In this time of unprecedented crises, we wanted to introduce an artist who has met the moment. We dive into the work of a woman whose artistic vision solely moves through Water and explores its healing power.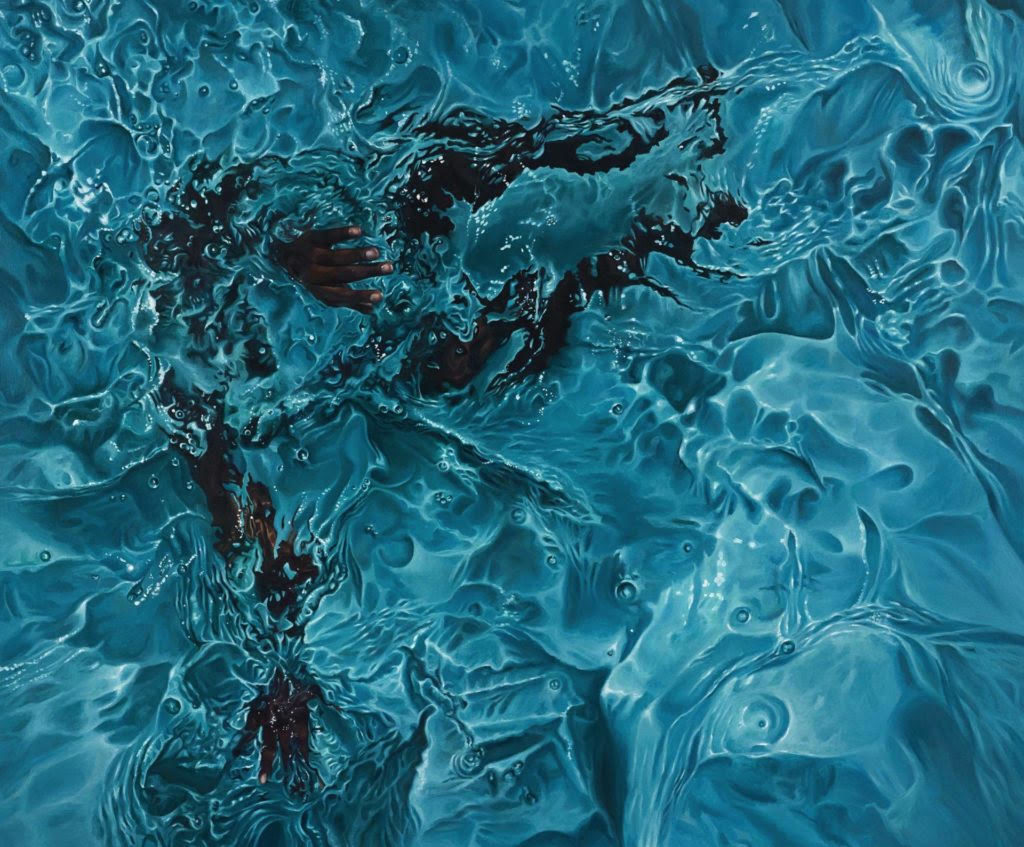 Artwork credit: North & Penn (For Freddie Gray) by Calida Rawles
Photorealist painter Calida Rawles' work focuses on immersive paintings of Black boys and girls suspended in Water. They are captivating and profoundly stirring. By showing these bodies immersed in an eternal pool of light and weightlessness, she portrays Water's healing powers and the profound moments of reflection.
"Water is definitely a spiritual healing element for me."

Artwork credit: A Promise by Calida Rawles
For Calida, the discovery of the healing properties of Water is life-changing and transformative. This realisation has provided a powerful common thread for her work, and the timing is very poignant. These trance-inducing emotionally charged paintings and their subject matter are immensely significant, considering that Black people were lawfully prohibited from going to public beaches and public pools for many years. It led to a disproportionate number of drowning victims who never had the opportunity to learn how to swim. The act of bringing Calida's subjects into the pool to then be photographed for her large scale paintings is a historical and symbolic gesture of change. Above all, her attempts to address and reconcile these historical traumas is truly inspirational.
"Water is definitely a spiritual healing element for me. I'm fascinated with how I feel in the water, how the light glistens off the Water and looks magical. The fact that we're made up of Water, that we can't live without it, and then the culturally historical concept of Water with black people. I remember visiting family on the Eastern shore of Maryland, where my father would take us to the beach, but some of my family wouldn't go in because they remembered when they couldn't go to the beach during segregation. A lot of people didn't go to the beach there, even though it was a mile from their house. It was their personal protest. That stuck with me that my Uncle Henry would never go to the beach with us. " Quote from her Juxtapoz interview.
"We are made of Water"

Artwork credit: The Space in Which We Travel by Calida Rawles
It is in times of great struggle that we find ourselves. From her painting practice to her immersive personal ritual with Water. Calida Rawles' ability to navigate pain and remedy it through Water is incredibly inspirational.
"When I started swimming, I had to let go of my fears. I realised I float better, if I put my head further underwater, which is against my natural instinct. But it's about trusting myself and relaxing in the Water because the tenser you get, the more you sink. That idea became a metaphor for me and life, thinking about how I can't control all that's happening right now, but there's nothing I can do but let go and relax and try to find the beauty in it. That's the only thing I can do in any circumstance, and that's the only thing I can do in the Water. It was through the discovery of myself that all of the art came from. I feel like I'm just beginning." Excerpt from her Juxtapoz interview.
Creating new narratives is an integral part of the artistic process. We hope that, like us, these paintings inspire you to explore your own relationship with Water; submerge yourself in things that have the power to lift you up and soothe you. There has never been a more pivotal moment for us to take care of ourselves and discover the elements that bring us power.
To view more of Calida Rawles, beautiful water paintings, go here.