At Vitruvian Man, we are always interested in connecting with our clients to learn more about how our skincare products integrate and elevate their lives. Today we are in conversation with Andrew Steiger, a visual artist living and working in Los Angeles who draws from his experiences with nature to create his works.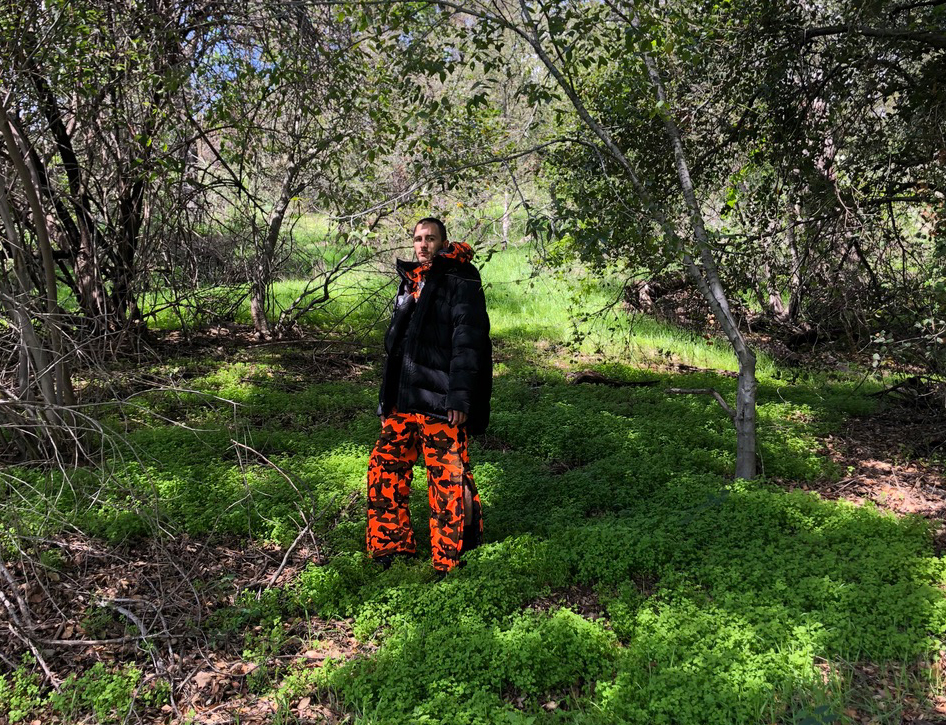 What is your journey on mindfulness to where you are today?
When I was small, my dad would often take me on adventures deep into nature. Underneath canopies of enormous evergreen trees, along with lush green forest floors, we would follow maps and trails. The sound of rivers were often our guides. Once we arrived at our destination – how we left that place became one of the most important lessons my dad has ever taught me. No matter where you went – you leave the place better than you found it.
Now, in my early 30's this mindful practice has extended far beyond just the care of natural spaces. It has informed almost every aspect of my life's choices. Most importantly, this mindfulness lesson has taught me about the implications of the products I choose to support. Our planet simply doesn't have enough room for more products that don't consider the bigger picture. Finding products that tread lightly on the earth aligns with my highest values, and I will go out of my way to support brands that put the planet first.
Did you have a skincare routine before you tried Vitruvian Man?
When I first discovered Vitruvian Man, I didn't have a skincare routine. I was like most guys who didn't understand the value of self-care through skincare. Culturally men aren't encouraged to take care of their skin. These types of actions are often deemed "feminine" and, therefore, somehow erode our masculinity. But eroding traditional masculinity is something that I think we ought to think more about. A gentler, softer approach to ourselves will result in the same behaviours towards others. Ripple effects we desperately need.
We can only be as kind to others as we are to ourselves, and the same can be said for how we treat the planet. In this way, skincare is a gateway to worldwide health and wellness. To show up as our best selves allows us the opportunity to show up for the world at large. Supporting brands like Vitruvian Man that source responsible products and who exclusively use natural ingredients is an extension of how I can care for the planet even when caring for my skin. We are not made separate from the planet – we are made of the planet.
Can you describe your experience with Vitruvian Man?
Using products with clean natural ingredients like desert flowers and seaweed allows me to commune with nature before leaving the house. This sense of grounding is vital to me. Even when I'm not in nature, connecting to nature is something that I will always look to do. It helps provide balance and calm and reduces my anxiety. One of the most reliable parts of my day starts in the morning with the beautiful, minimal, deep green packaging that waits for me happily on my bathroom shelf. Once I've gone through my routine with the aromatic ginger Anti-Pollution Toner & Cleanser, have applied the Supreme Eye Cream and SPF Resurrection Cream, I feel like my essential adventure companions have been summoned. I don't feel adequately prepared for the day without this morning routine.
Nature plays a big part in your life, is that the inspiration for your art?
As a passionate environmentalist, nature has always played a huge role as an inspiration for the way I live and my art. I am very motivated by nature's abundant magic and healing powers. And yet, the more I explore and learn about our natural world, the more places I come to discover are suffering cataclysmic destruction of habitat and loss of wildlife. Due to our thoughtless consumer behaviours – putting these natural magic places in jeopardy of being lost forever. We desperately need more people to make mindful choices on behalf of our planet's future and the world that future generations will inhabit. We are more than capable of changing these troubling trends. And it starts at home, with each of us.
There is hope when brands like Vitruvian Man step up and practice sustainability. There is hope when each of us steps up and adopts a gentler routine and self-care practice. Those actions flow outwards. It isn't nearly as overwhelming as it seems. All it takes is a little mindfulness.
A piece of wisdom for us?
We just need to leave this place better than we found it.