We all suffer the effects of the changing seasons: increased time indoors, artificial heating and the feeling that your skin is dry, dull and itchy. These are all the sign that your skin is dehydrated.
Here are the 3 top tips and reasons on vital men's grooming for winter to get you feeling confident in your skin:
Daily facial moisturising – this greatly reduces the chances of skin problems associated with dryness, rashes, and a tight feeling complexion
Drink lots of water – quenching your skin's thirst for moisture both inside and out help you retain a brighter and healthier look
Use Sun Protection – without sufficient protection, your skin will lose the battle against harmful UVA and UVB rays that can cause dangerous sun spots, prone to saggy skin and even at risk on skin cancer
Whether you spend your days inside an air conditioned office, travelling across time and weather zones or in the great outdoors exposing your skin to vastly different temperatures and pressure areas will cause a drying, uncomfortable effect.
Regularly moisturizing your skin will take away those patchy complexions and ensure that you're always well equipped for any environmental challenge.
Top tips on how to use your moisturiser correctly!
A hot bath or shower will rid your face of all its natural moisture and oil, leaving it parched and dry. When you exfoliate or shave your skin, this dehydration process will be enhanced, making it even more important to restore moisture balance and soothe irritations as soon as possible.
Gently massaging in the moisturiser will support blood circulation and the regeneration of skin cells and seal in moisture. To make sure you get the most out of your moisturiser, use it straight after you wash and pat dry your face. Apply a coin size amount on your fingertips or palm and massage it gently into your skin including your neck, and the often-neglected spot behind the ears.
Why is UV Protection so important now?
Accumulated exposure to UV rays is a prime cause of premature skin ageing and also skin cancer. Make sure you use a moisturiser with SPF (Sun Protection Factor) during the day to effectively combat harmful exposure to sunlight but please check the product ingredients!
The impact of SPF on the environment
Many facial and body sunscreens/ creams with SPF contain chemical compounds like oxybenzone, octinoxate, avobenzone, and homosalate, which break down into harmful by-products, affecting the environment such as bleaching of our dear coral reef and potentially disrupting hormones in our bodies.
Having that in mind, we have developed an unique green formula, avoid the use of any nanoparticles and silicones. Vitruvian Man All Day Resurrection Facial Cream with SPF 20, uses only mineral UV filter Zinc Oxide and natural Pongamia Seed Oil. These two main protective ingredients will not only reflects/deflects UV rays, they also protect the skin from creating oxygen radicals (causing premature skin ageing) and build-up the skin's natural resilience against harsh environmental elements.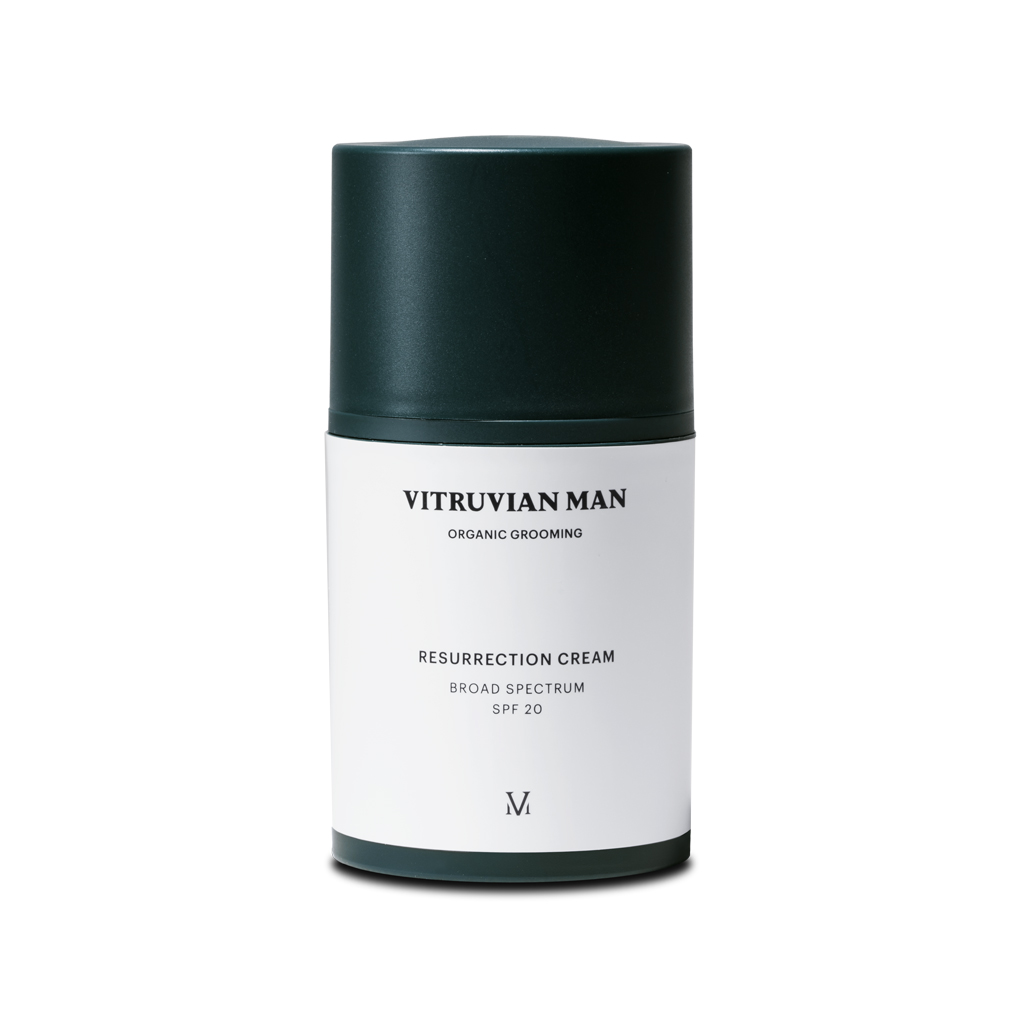 We hope you like this article and do feel free to share! Want more skin care advice, drop us a line here!