Happy January! After a year like no other, we approach 2021 with a gentle hope.  Inevitably each New Year begins with talks of resolutions, but is this the year to burden yourself with the pressure that comes with goal setting? What if we focused on small, daily rituals that when practised daily lead to long-lasting change and connection to yourself? Something as simple as approaching your skincare routine with reverence can set the stage for a calmer day.  Stress manifests itself in our bodies in many different ways, and one place that we can see its impact is in our skin. This is why we're here to share the three simple steps to healthy skin
What affects the healthiness of your skin?
When your body is stressed, it produces more of the hormone cortisol. Cortisol helps the body fight illness, controls blood sugar levels, regulates metabolism, and influences memory formation. Sounds good right? But if your stress is prolonged and cortisol production is continual, it can actually become inflammatory. It also stimulates the hormone CRH, leading to excessive oil being released around your hair follicles. This excess in oil leads to acne.
And acne isn't the only way stress can show up on your skin. Dehydrated skin and wrinkles can be a result of chronic stress as well. Stress causes changes to the proteins in your skin and reduces its elasticity, and this loss of elasticity can contribute to wrinkles/ fine lines formation. So what can you do to help care for your skin while navigating this new reality? First, take a deep breath.
Take a note – here are the three simple steps to healthy skin
The good news is that starting a skincare routine can actually help you feel more in control.  Setting some time aside, even if it's only 10 minutes each morning and night for yourself instead of scrolling or reading the news can help you reconnect to yourself. A skincare routine doesn't need to be complicated to be effective. Try starting with our 3 step routine with products that pull double duty. Our 2 in 1 foaming gel cleanser also tones your skin and protects and calms against urban stressors. It also smells richly of ginger which can soothe and reduce feelings of stress and sadness.
Next up, protect your under-eye area with our Supreme Eye Cream. Research has found that the loss of skin elasticity partially contributes to the formation of under-eye bags. Our new, highly concentrated anti-oxidant eye cream is lush and lightweight. Our Supreme Eye Cream nourishes tired eyes by boosting the skin's dermal architecture, reduces wrinkles, prevents sagging skin and the appearance of dark circles.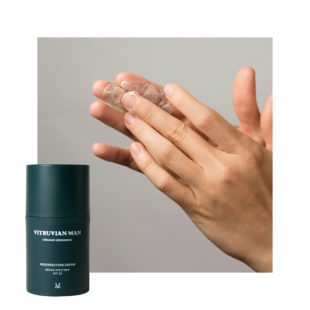 End your routine with a combination of moisture and sunscreen with our Resurrection Cream.  Our long-lasting hydration treatment is partnered with a broad spectrum SPF 20. We use a mineral sun filter – Zinc Oxide and organic Pongamia Glabra Seed Oil. They work together to form a barrier that reflects sunlight but doesn't clog your pores. This allows your skin to soak up Vitamin D from the sun while also protecting our skin from premature ageing.
Why a skincare routine is important?
So, in three steps, you can nourish your skin! And by completing one small act of self-care, you will flood your brain with the "feel good" neurotransmitter – dopamine. We don't have control of everything around us, and it can be hard to remember to take care of ourselves in the face of crisis. But one small step, like a skincare routine, can help us live in the present moment and reconnect to our bodies. And just like that, you have infused a simple act with meaning.